Welcome to the Sprayed Finishes website.
We have updated a few things so take some time to look around. If you just found us and are looking for the perfect finish on your next project, you have come to the right place.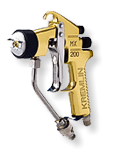 At SPRAYED FINISHES, quality, service & knowledge is what set us apart from the rest.
Quality:
The best finish can only be achieved in a controlled environment. All finishes are applied in this manner with leading finishing equipment on the market, backed by the finest products.
Service:
A small company gives you that personal service most large companies can't.
Knowledge:
Being in the finishing business for over 20 years is experience & knowledge that we pass on to the customer to help with decision making.
Our services include the finishing of:
• Cabinets
• Interior doors
• Interior trim
• Windows & more!!
Our finishes include:
• Clear Coats
• Staining
• Glazing
• Antiquing
• Distress and Solid Color choices